Class in session, learn from the genius!
I suppose the deal with ABT put me into a meta troll mode, so it's time to do something constructive for a change. The idea isn't mine though, but spawned from a conversation on a certain IRC channel.

As you may know, a Finnish anime blog aggregator site called Ani.mu was launched some time ago and although it didn't bring the local sphere together as much as I had hoped (I was pretty much the one who came up with the idea, though it was mostly a joke on my part at the time), it has at least helped getting a better understanding on who's doing what. Anyway, ABT was also somewhat noted on the Finnish side and spawned a short conversation during which an idea of some meta action between the Finnish bloggers emerged. The idea was simple: Give participating bloggers 24 hours to post about a certain subject.
Sounds kinda no brainer stuff, doesn't it? But I haven't seen that happening all that much, aside from maybe the 12-days-to-Christmas project that seems to have established itself as a tradition in the English sphere. And it's not like it has to be limited to a single post. So why don't we have an Anime Blog Marathon while we're at it? Of course even us bloggers have lives, so there would have to be some kind of scheduling. But it sure as hell would measure the qualities, individual strengths, weaknesses and traits of bloggers far better than a simple popularity contest like ABT. Not only the quality of posts on the set subjects but also such things as endurance, consistency and speed. Sounds competitive and that it is, but if you're going to measure blogs against each other you might as well do it properly.
Pulling this off on the English sphere would require pretty massive efforts but I'm just sayin'. On the Finnish side it might be doable because there aren't too many active bloggers out there and everyone's within the same time zone. That said, Finnish blogs tend to differ from each other pretty radically as far as their themes go, so it's not without challenges there either. Not to mention that people seem to be damn inactive in summertime. As someone pointed out on the Ani.mu IRC channel, nearly half of the posts on the site are from Jinx!. Come on people, are you really going to let me take all the cake?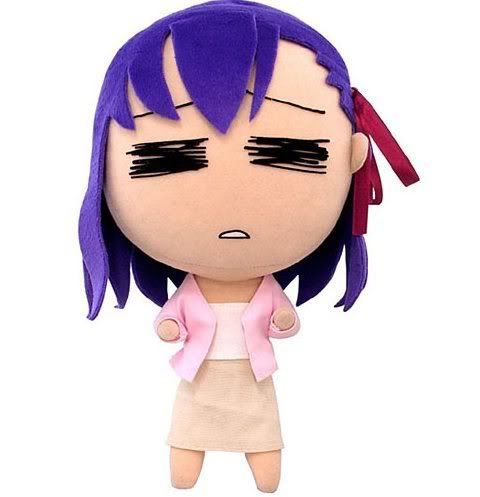 Yes, come to us…
Fellow Finnfags, I encourage you to drop by #ani.mu on IRCNet (yes lol IRCNet, rest assured I have always strongly opposed using that network) – especially if you're not a blogger. I have my hands full with the English sphere folks but I'm sure my Finnish colleagues could use the opportunity to get to know their target demographic better. We can keep on circlewanking til doomsday but in my experience that's not a good way to improve and find inspiration.